Skip content
A Beautifully Foolish Endeavor
A Novel
By: Hank Green
Narrated by: Kristen Sieh, Joe Hempel, Jesse Vilinsky, Nicole Lewis, Kevin R. Free, Hank Green, Robert Petkoff, Angelo Di Loreto, Oliver Wyman, Hillary Huber, P.J. Ochlan & Gabra Zackman
Length:

15 hours 45 minutes
Who has the right to change the world forever? 
How will we live online? 
How do we find comfort in an increasingly isolated world?
---
Bookseller pick
"Readers of An Absolutely Remarkable Thing will enjoy this sequel, which may be quirkier and stranger than the first. Appreciated the interview at the end which also helped unpack some of the larger societal commentary that Green so successfully wove into the narrative."

Tina, Leaves Book and Tea Shop
Bookseller pick
"Followers of Hank Green's TikTok page may have recently heard his defense of brother and fellow author John Green against critical accusations of over reliance on cliché and pandering. It's apparently something Green puts a lot of thought into in his own writing. Green creates a thoroughly modern story written for a Millennial and Gen-Z sensibility but without talking down to, or misunderstanding his audience. Similar to how authors Murakami or Ogawa blend mundane with extraordinary, Green creates a natural experience allowing readers to inhabit a world in change. Albeit from a distinctly American perspective. "A Beautifully Foolish Endeavor" provides hope for a cynical world that more and more closely mirrors our dystopian fantasies."

Jesse, Browsing Bison Books
---
Description
The Carls disappeared the same way they appeared, in an instant. While the robots were on Earth, they caused confusion and destruction with only their presence. Part of their maelstrom was the sudden viral fame and untimely death of April May: a young woman who stumbled into Carl's path, giving them their name, becoming their advocate, and putting herself in the middle of an avalanche of conspiracy theories. 
 
Months later, April's friends are trying to find their footing in a post-Carl world. Andy has picked up April's mantle of fame, speaking at conferences and online; Maya, ravaged by grief, begins to follow a string of mysteries that she is convinced will lead her to April; and Miranda is contemplating defying her friends' advice and pursuing a new scientific operation…one that might have repercussions beyond anyone's comprehension. Just as it is starting to seem like the gang may never learn the real story behind the events that changed their lives forever, a series of clues arrive—mysterious books that seem to predict the future and control the actions of their readers—all of which seems to suggest that April could be very much alive.
 
In the midst of the search for the truth and the search for April is a growing force, something that wants to capture our consciousness and even control our reality. A Beautifully Foolish Endeavor is the bold and brilliant follow-up to An Absolutely Remarkable Thing. It is a fast-paced adventure that is also a biting social commentary, asking hard, urgent questions about the way we live, our freedoms, our future, and how we handle the unknown.
---
Gift memberships
Gift audiobooks to anyone in the world from the comfort of your home. You choose the membership (3, 6, or 12 months/credits), your gift recipient picks their own audiobooks, and local bookstores is supported by your purchase.
Start gifting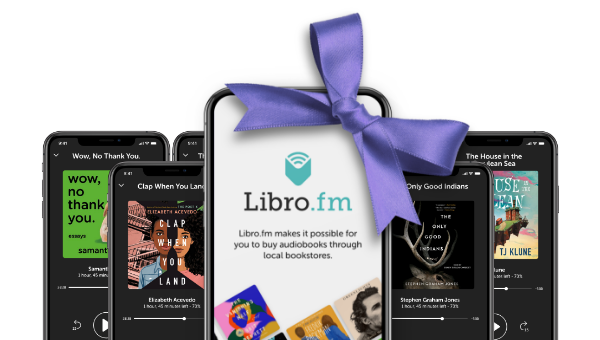 Testimonials
---
"A book about people pursuing second acts after a traumatic crisis is pretty timely – and such a book, filled with compassion, bravery, smart mobs and stupid ones, and a hell of a metaphor for late-stage capitalism, besides."

Cory Doctorow, author of Little Brother and Radicalized
"A Beautifully Foolish Endeavor builds in every way on the thrills of the first book, featuring twists that are even twistier, mysteries that are even more mysterious, and, most impressive of all, solutions to those mysteries that are as interesting as their set-ups. This is a book that thinks deeply and wisely about fame, wealth, the internet, and the future of humanity, but also, and I'm not sure how Hank pulled this off, it's fun as hell."

Joseph Fink, author of Welcome to Night Vale and Alice Isn't Dead
"A Beautifully Foolish Endeavor gracefully and fearlessly closes out the saga of April May, a book, if it is possible, even more engaging, thorny, personal, and thrilling than the first."

Catherynne Valente, author of Deathless and Space Opera
About the author
---
Hank Green is the #1 New York Times bestselling author of An Absolutely Remarkable Thing. He's also the CEO of Complexly, a production company that creates educational content, including Crash Course and SciShow, prompting The Washington Post to name him "one of America's most popular science teachers." Complexly's videos have been viewed more than two billion times on YouTube. Hank and his brother, John, are also raising money to dramatically and systematically improve maternal health care in Sierra Leone, where, if trends continue, one in seventeen women will die in childbirth. You can join them at PIH.org/hankandjohn.
Reviews
"While there are many parallels to our current climate, A Beautifully Foolish Endeavor is a hopeful read that provides a "Black Mirror" like warning of new technology without the heavy feeling of dread. Green gives nuance to the privileges of escapism with humor and grace through main characters taking a chance on hope, even if it is beautifully foolish."

USA Today
"A raucous, boldly inventive tale of alien technology, social media and influencers, the limits of the human mind, and the lengths humans will go to get what they want. Even after a satisfying ending, readers will have much to think about."

Booklist, starred review
"If you're looking for a novel that will offer escapism alongside stinging social commentary and just the right amount of cautious optimism for humanity's future, this might be the perfect read."

BookRiot
---
Bookseller Pick
An Absolutely Remarkable Thing
By: Hank Green
Length: 9 hours 24 minutes
Abridged: No
THE INSTANT #1 NEW YORK TIMES BESTSELLER

In his much-anticipated debut novel, Hank Green--cocreator of Crash Course, Vlogbrothers, and SciShow--spins a sweeping, cinematic tale about a young woman who becomes an overnight celebrity before realizing she's part of something bigger, and stranger, than anyone could have possibly imagined.

The Carls... Read more »
Learn more
Bookseller Pick
A Beautifully Foolish Endeavor
By: Hank Green
Length: 15 hours 45 minutes
Abridged: No
THE INSTANT NEW YORK TIMES BESTSELLER

Who has the right to change the world forever? 
How will we live online? 
How do we find comfort in an increasingly isolated world?
 
The Carls disappeared the same way they appeared, in an instant. While the robots were on Earth, they caused confusion and destruction with only their presence. Part of their... Read more »
Learn more