Skip content
So Close to Being the Sh*t, Y'all Don't Even Know
Bookseller pick
"This is totally delightful and insightful. The Queen of Treat Yo Self reads her book of essays, and she manages to discuss topics such as race, body image, friendship, handbags, and other things with a sense of levity that doesn't undermine each topic's seriousness. Definitely a fun read/listen!"

Tildy, Belmont Books
Bookseller pick
"Parks and Recreation star Retta delves into her life as a comedian, family member, and ultimate fangirl, starting at how she missed the opportunity of a lifetime due to lack of confidence and ending at the drive-thru of KFC. We get all the important details of her infamous live-tweeting sessions, her classy/not so classy moments at award shows, and her aggressive love of handbags. This book is hilarious and empowering, proving that if you work hard and fight for your dreams, you can see the musical Hamilton six times and sit in Obama's seats. I thoroughly enjoyed listening to Retta narrate this book and provide her own mannerisms into the storytelling. Treat yo self to a fantastic listen and buy this book ASAP."

Colleen, An Unlikely Story
Bookseller pick
"This was a fun listen during my daily 20 minute one way commute. At first, I wasn't sure if I could listen to it given that 1) I had no idea who Retta was other then a comedy tv star and 2) there was a lot of talk about social media in the beginning that I couldn't relate to it since I'm not really on social media. But, as the seconds ticked by, I became invested in her story. I found her depiction of her childhood both truthful and amusing. And, even more so when she started to talk about her struggles with her career and other issues. What was fascinating is her use of twitter and how she loves her tv show. So much, that she live tweets to them. What I really enjoyed was her unbridled enthusiasm about things that she loves... things as mundane as handbags to HAMILTON. I really, really loved the Hamilton/Lin Manuel Miranda chapter. Plus, Retta is a funny and a true entertainer. I may have to put down my print reads at some point to check out Parks and Rec."

Audrey, Belmont Books
---
Description
"This book feels like a real conversation. When we enter Retta's world we are at the best party and in the hands of a gracious, self-perceptive, and deeply hilarious host." — Amy Poehler

This program is read by the author.

In this hilarious audiobook essay collection, Parks and Recreation star Retta shares the stories that led to her success in Hollywood.
In So Close to Being the Sh*t, Y'all Don't Even Know, Parks and Recreation star Retta takes us on her not-so-meteoric rise from roaches to riches (well, rich enough that she can buy $15,000 designer handbags yet scared enough to know she's always a heartbeat away from ramen with American cheese).
Throwing her hard-working Liberian parents through a loop, Retta abandons her plan to attend med school after graduating Duke University to move to Hollywood to star in her own sitcom—like her comedy heroes Lucille Ball and Roseanne.
Say what? Word. Turns out Retta might actually be on to something. After winning Comedy Central's stand-up competition, she should be ready for prime time—but a fear of success derails her biggest dream.
Whether reminiscing about her days as a contract chemist at GlaxoSmithKline, telling "dirty" jokes to Mormons, feeling like the odd man out on Parks, fending off racist trolls on Twitter, flirting with Michael Fassbender, or expertly stalking the cast of "Hamilton," Retta's unique voice and refreshing honesty will make you laugh, cry, and laugh so hard you'll cry.
Her eponymous sitcom might not have happened yet, but by the end of So Close to Being the Sh*t, listeners will be rooting for Retta to be the next one-named wonder to take over your television. And she just might inspire you to reach for the stars, too.
More Praise for So Close to Being the Sh*t, Y'all Don't Even Know:
"Two things — 1) Don't yell 'Treat Yo Self' at Retta if you see her in person, a lot of people have done that already, just whisper it to yourself and give her a thumbs up. That'd be cool. 2) Check out her book. Stop reading this quote and buy it already, boo boo." — Aziz Ansari, bestselling author of Modern Romance

"Hollywood has no more honest, hilarious, or necessary guide than Retta. If her tweets aren't enough, get ready for the fullness of her vision — you're gonna laugh. You're gonna think. You're gonna be hella glad you came." — Lena Dunham, star of Girls and bestselling author of Not That Kind of Girl
"Reading this book is like having the best coffee date with the life-long friend I wish I had. Retta makes me laugh and feel so hard." — America Ferrara
---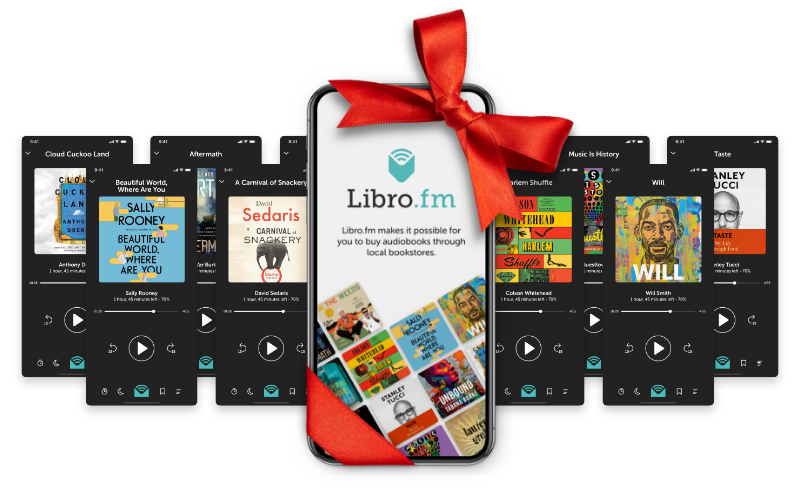 Shop early and gift big!
Gift an audiobook membership to anyone in the world and support local bookstores at the same time.
Start gifting
---