Skip content
Down Along with That Devil's Bones
A Reckoning with Monuments, Memory, and the Legacy of White Supremacy
---
Bookseller pick
"The past won't go anywhere — especially the racist past endorsed by the contemporary enablers of the Nathan Bedford Forrest mythology. O'Neill's combination of historical research on the 'Southern Cause' and Jim Crow racism, combined with visits to the most contentious monuments to slavery, bring this work to visceral life. Down Along with That Devil's Bones brings to mind Tony Horwitz's Confederates in the Attic, but there's much less to laugh about as O'Neill gives us the endless monumental horror of a country's refusal to shake free from the roots of a long racist history."

Brian Lampkin, Scuppernong Books
---
Description
In Down Along with That Devil's Bones, journalist Connor Towne O'Neill takes a deep dive into American history, exposing the still-raging battles over monuments dedicated to one of the most notorious Confederate generals, Nathan Bedford Forrest. Through the lens of these conflicts, O'Neill examines the legacy of white supremacy in America, in a sobering and fascinating work sure to resonate with readers of Tony Horwitz, Timothy B. Tyson, and Robin DiAngelo.
When O'Neill first moved to Alabama, as a white Northerner, he felt somewhat removed from the racism Confederate monuments represented. Then one day in Selma, he stumbled across a group of citizens protecting a monument to Forrest, the officer who became the first Grand Wizard of the Ku Klux Klan and whom William Tecumseh Sherman referred to as "that devil." O'Neill sets off to visit other disputed memorials to Forrest across the South, talking with men and women who believe they are protecting their heritage, and those who have a different view of the man's poisonous history.
O'Neill's reporting and thoughtful, deeply personal analysis make it clear that white supremacy is not a regional affliction but is in fact coded into the DNA of the entire country. Down Along with That Devil's Bones presents an important and eye-opening account of how we got from Appomattox to Charlottesville, and where, if we can truly understand and transcend our past, we could be headed next.
---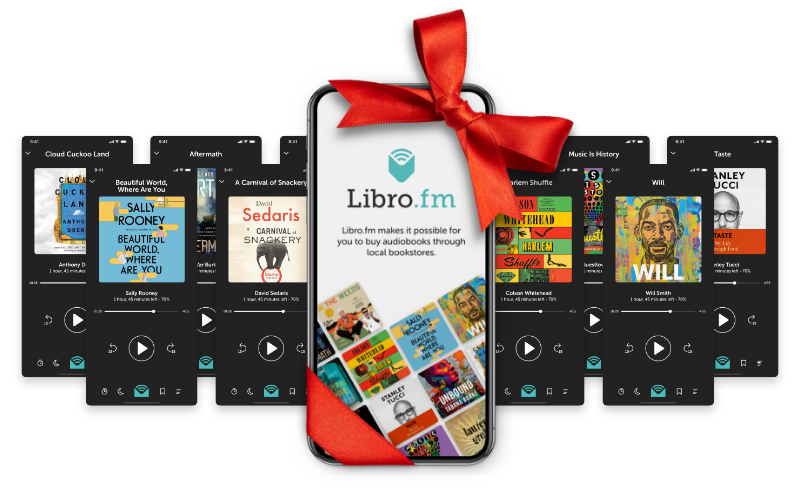 Shop early and gift big!
Gift an audiobook membership to anyone in the world and support local bookstores at the same time.
Start gifting
Testimonials
---
"We can no longer see ourselves as minor spectators or weary watchers of history a­fter finishing this astonishing work of nonfiction."

Kiese Laymon, author of Heavy
"This is a powerful, important book, a timely and moving study of the haunting legacy of white supremacy. Connor O'Neill frames his work around the controversies over various statues and memorials to Nathan Bedford Forrest, the infamous Confederate officer. For O'Neill, these arguments are a clear reflection of our divided nation. I learned much while reading this book. O'Neill is smart, passionate, and engaging. His book is impressive and valuable. And he is a gifted writer as well. Don't miss this one."

Christopher Rose, Andover Bookstore, Andover, MA
"Like the author, I moved to the South from the North. I lived in the South for twenty years, and I struggled with the same issues as the author, including what to do about the statues that did not seem to be about heritage but instead about remembering what was so destructive. O'Neill's reflection resonated like nothing else I have read. This is an extremely important book about us as a nation, both now and in our past, including what we will pass on to future generations. I will never forget this book."

Larry Yoder, The Bookies Bookstore, Denver, CO
"While examining four Nathan Bedford Forrest Confederate memorials across the South, author Connor Towne O'Neill comes into direct contact with white supremacy's stubbornness and relentlessness. O'Neill takes us on a complex and personal tour of four Southern cities and illuminates how the entire country is complicit in pervading racism throughout its history and into the present. Down Along with That Devil's Bones is an insightful, timely, and revealing work of participatory journalism that will resonate with any conscientious reader."

Slade Lewis, Square Books, Oxford, MS
"A powerful and beautifully written book that is coming into the world at a time when more of us than ever are aware that we need it. For anyone who is feeling bewildered by the persistence of white supremacy, O'Neill provides invaluable context and insights. Sobering, thoughtful, compelling, and essential"

Annie Farrell, Labyrinth Books, Princeton, NJ
Quotes
---
About the author
---
Connor Towne O'Neill's writing has appeared in New York magazine, Vulture, Slate, RBMA, and the Village Voice, and he works as a producer on the NPR podcast White Lies, which was a finalist for the 2020 Pulitzer Prize in Audio Reporting. Originally from Lancaster, Pennsylvania, he lives in Tuscaloosa, Alabama, and teaches at Auburn University and with the Alabama Prison Arts + Education Project. This is his first book.
Reviews
"A personal examination of one of the great divides in our country today . . . Essential reading for how we got from Appomattox to Charlottesville—and where we might go next."

Publishers Weekly, Starred Review
"O'Neill's first book is a dazzling reminder that American racism is robust and virulent. He writes with a fluency of American culture that portends well for his books to come."

New York Journal of Books
"A well-researched history and a call for reformation in America."

BookPage
"An eloquent and provocative examination of the links between protests over Confederate monuments in the South and the resurgence of white supremacy . . . O'Neill writes with grace and genuine curiosity . . . This inquiry into the legacy of American slavery is equally distressing and illuminating."

Publishers Weekly