Skip content
Finalist for the 2020 National Book Award for Fiction

One of the New York Times' Ten Best Books of the Year

One of Time's Ten Best Novels of 2020

A New York Times and Washington Post Notable Book of 2020
---
Bookseller pick
"I only learned after finishing A Children's Bible that Lydia Millet has a masters degree in environmental policy and has worked as a writer for the Center for Biological Diversity since 1999. It goes a long way to explain why, of all of the apocalyptic novels I've read of late, this one felt so crushingly real (in spite of a few fantastical flourishes). She clearly knows the science, but above that, she knows humanity, for better or worse. A Children's Bible reads like an oral history of the apocalypse, from the point of view of the children who take matters into their own hands after their parents fail them, in both grandly metaphorical and smaller, literal ways. The Bible metaphor works well as a title for this book, this being the Book of Evie. Except the Book of Evie does not come after Genesis, but after Revelations, and it's a response to the adults who looked away and hoped someone else would fix everything for the next generation. A Children's Bible is a masterful novel: darkly humorous and unsparing in its wisdom. In a year of some really fantastic books, this one is my favorite."

Rachel , The Book Table
Bookseller pick
"In A Children's Bible, the age-old war between kids and their parents, children and adults, is reimagined through the lens of Biblical devastation. The result is harrowing and, in unexpected moments, hilarious. Millet has created a story that feels both folkloric and brand new, a tale as much about environmental cataclysm as it is about fighting for the people, things, and ideas that remain right and true, no matter how high the water gets. I love Millet's perfectly tuned sentences as much as the ambition of this novel, which I'll continue thinking about for a long time."

Kristen Iskandrian, Thank You Books
---
Description
Pulitzer Prize finalist Lydia Millet's sublime new novel—her first since the National Book Award long-listed Sweet Lamb of Heaven—follows a group of twelve eerily mature children on a forced vacation with their families at a sprawling lakeside mansion.
Contemptuous of their parents, who pass their days in a stupor of liquor, drugs, and sex, the children feel neglected and suffocated at the same time. When a destructive storm descends on the summer estate, the group's ringleaders—including Eve, who narrates the story—decide to run away, leading the younger ones on a dangerous foray into the apocalyptic chaos outside. As the scenes of devastation begin to mimic events in the dog-eared picture Bible carried around by her beloved little brother, Eve devotes herself to keeping him safe from harm. A Children's Bible is a prophetic, heartbreaking story of generational divide—and a haunting vision of what awaits us on the far side of Revelation.
---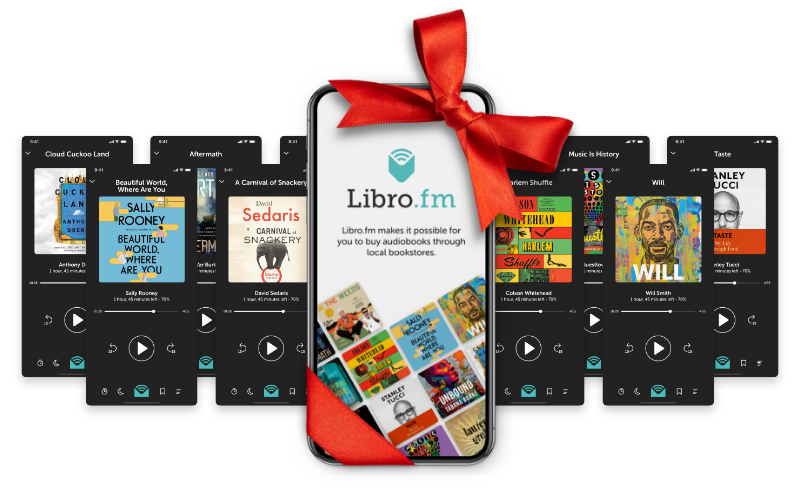 Shop early and gift big!
Gift an audiobook membership to anyone in the world and support local bookstores at the same time.
Start gifting
Testimonials
---
"For a while the novel sustains a deceptively timeless, children's-treasury vibe ... The setting—a massive summer house, with multiple families vacationing in it—calls to mind that of Susan Minot's novel Monkeys turned to account as metaphor ... There's a birth in a barn, a plague, a Moses, a Cain and an Abel, even a crucifixion. But part of the novel's genius is that these allusions never really lead anywhere ... The allusions aren't symbols or clues; they're just faint echoes, like puzzle pieces too few to fit together ... With brilliant restraint, Millet conceives her own low-key 'bible' ... It's a tale in which whoever or whatever comes after us might recognize, however imperfectly, a certain continuity: an exotic but still decodable shred of evidence from the lost world that is the world we are living in right now."

Jonathan Dee, New York Times Book Review, author of The Locals, A Thousand Pardons and The Privileges.
Reviews
"To call it a generational allegory seems like an understatement. Millet is one of the most fascinating novelists working. "

Wall Street Journal Magazine
"Children's Bible gains strength from its contradictions. It is hilarious yet tender; absurd yet chillingly realistic, nostalgic yet prescient. "

Halimah Marcus , Electric Lit
"[A] blistering little classic…Millet's wit and her penchant for strange twists produce the kind of climate fiction we need: a novel that moves beyond the realm of reporting and editorial, a story that explores how alarming and baffling it feels to endure the destruction of one's world. Take this book, eat it up."

Ron Charles, Washington Post
"This superb novel begins as a generational comedy...and turns steadily darker, as climate collapse and societal breakdown encroach. But Millet's light touch never falters; in this time of great upheaval, she implies, our foundational myths take on new meaning and hope."

New York Times Book Review
"Eco-fiction dystopias often make our climate future outright calamities of tidal waves and massive tree die-offs. Millet…knows what's coming is likely to be more subtle, and the slow-motion collapse she imagines in her latest novel is what makes it so harrowing."

Mark Athitakis, Kirkus Reviews
"Millet mordantly captures the complacency of older generations in the face of apocalypse, and the righteous anger, endurance, and practicality of the young."

New Yorker