Skip content
Big Friendship
How We Keep Each Other Close
A close friendship is one of the most influential and important relationships a human life can contain. Anyone will tell you that! But for all the rosy sentiments surrounding friendship, most people don't talk much about what it really takes to stay close for the long haul.
---
Bookseller pick
"This is one of the most meaningful and thought provoking books I've read in a long time. It will forever change how I think about the friendships in my life. I was provided valuable tools to develop and maintain these valuable relationships with greater intent and thoughtfulness. I want to put it into the hands of each of the most significant people that make up my own friendship web along with me sharing how much they mean to me. When I discovered it was written by the friends profiled in Traister's "All the Single Ladies" who met and connected at a Gossip Girl viewing party, I knew it was for me. I loved the story about their friendship and was curious to see where they were now. The audio book is narrated by Ann and Aminatou and also includes sound clips from various people they interviewed from their book. It was certainly lovely to hear more about their lives and their friendship. Their narration elevated and personalized this reading experience for me. I was unprepared for how much their research and reflections on friendship would resonate for me and challenge me to start taking more conscious steps to actively work on those I cherish the most and wish to have with me until the end of my days. I have spent much time thinking about how I approach friendships in my life and what actions and habits I need to take to enhance and grow the important relationships in my life. It helped me understand why some friendships have never moved beyond the acquaintance level and others remain strong despite distance and time. It is also helping me find long-needed peace in letting go of my disappointment and frustrations regarding friendships that failed without closure or explanation. Although this is primarily a story about female friendships, I think their ideas, information, and reflections are relevant to anyone who wants to be a better friend and develop and maintain meaningful personal relationships with others."

Cori, Bright Side Bookshop
---
Description
Now two friends, Aminatou Sow and Ann Friedman, tell the story of their equally messy and life-affirming Big Friendship in this honest and hilarious book that chronicles their first decade in one another's lives. As the hosts of the hit podcast Call Your Girlfriend, they've become known for frank and intimate conversations. In this book, they bring that energy to their own friendship—its joys and its pitfalls.

Aminatou and Ann define Big Friendship as a strong, significant bond that transcends life phases, geographical locations, and emotional shifts. And they should know: the two have had moments of charmed bliss and deep frustration, of profound connection and gut-wrenching alienation. They have weathered life-threatening health scares, getting fired from their dream jobs, and one unfortunate Thanksgiving dinner eaten in a car in a parking lot in Rancho Cucamonga. Through interviews with friends and experts, they have come to understand that their struggles are not unique. And that the most important part of a Big Friendship is making the decision to invest in one another again and again.

An inspiring and entertaining testament to the power of society's most underappreciated relationship, Big Friendship will invite you to think about how your own bonds are formed, challenged, and preserved. It is a call to value your friendships in all of their complexity. Actively choose them. And, sometimes, fight for them.
---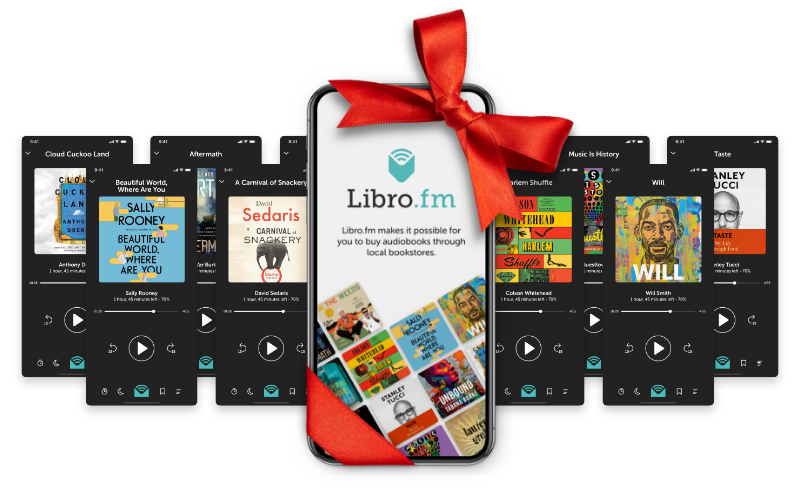 Shop early and gift big!
Gift an audiobook membership to anyone in the world and support local bookstores at the same time.
Start gifting
Testimonials
---
"Deeply compelling… This is the kind of book that makes you want to reach out to your best, biggest friends to say thank you, thank you, thank you for walking in this world with me. As with your big friendships, this unforgettable book is one you will want to keep close."

Roxane Gay, New York Times bestselling author of Bad Feminist and Hunger
"Here, friendship gets the emotional and intellectual respect it deserves; and like any truly great love story, Ann's and Aminatou's is a page turner. I love this book. "

Rebecca Traister, New York Times bestselling author of Good and Mad
"In this openhearted book, Aminatou Sow and Ann Friedman show us how a friendship can be as rewarding and enduring as a marriage, and they urge us to value it accordingly—as they clearly do. An inspiration."

Ariel Levy, New York Times bestselling author of The Rules Do Not Apply
About the author
---
Aminatou Sow is a writer, interviewer, and cultural commentator who facilitates conversations around the most important issues of our time. She cohosts the popular podcast Call Your Girlfriend with her friend, Ann Friedman. She is a frequent public speaker whose talks and interviews lead to candid conversations about female ambition, money, and power. In 2014, Aminatou was named one of Forbes 30 Under 30 in Tech. She is also the cofounder of Tech LadyMafia, an organization created to increase the visibility of women working in technology. Aminatou lives in Brooklyn. Visit her at Aminatou.com or on social media @Aminatou.

Ann Friedman is a journalist, essayist, and media entrepreneur who loves talking to strangers and finding new ways to explain the world. She cohosts the popular podcast Call Your Girlfriend with her friend, Aminatou Sow. Her writing and reporting have appeared in New York magazine, the Los Angeles Times, The Gentlewoman, California Sunday, The New York Times, Elle, and The Guardian. Ann is a public speaker and consultant on the creative process and the future of media. Every Friday, she sends an email newsletter, The Ann Friedman Weekly, which has been praised by Fast Company and Wired magazine. Ann lives in Los Angeles. Visit her at AnnFriedman.com or on social media @AnnFriedman.
Reviews
"A wonderful and intimate portrayal. A story is as universal as it is revolutionary."

Hillary Rodham Clinton
"Aminatou Sow and Ann Friedman are the patron saints of friendship."

Bustle
"Big Friendship is an anatomy of the way one particular friendship works, but it is also an argument for taking all amicable relationships more seriously, for understanding them in the terms we usually reserve for romance (the authors share their "meet cute" and discuss the "spark" and "chemistry" between them), and for appreciating the sometimes difficult and time-consuming work it takes to maintain these friendships."

Vogue
"A deeply funny and immensely heartfelt look into what makes a friendship last despite time, distance, trials and major life changes."

Elle
"A rich exploration of friendship...Having honed a relationship they compare to the one between Oprah Winfrey and Gayle King, [Ann Friedman and Aminatou Sow] are well equipped to deliver honest and helpful advice to anyone struggling to maintain a healthy union over time and distance. A soul-searching reflection that delivers an emotional journey to amplify the self-help tips."

Kirkus Reviews