The Libro.fm App
Listen to Your Libro.fm Audiobooks Anytime, Anywhere.
Listening with the free Libro.fm app is the best way to enjoy your audiobooks, as it has features that make listening easier and more enjoyable for you, including:
Sleep timer
Bookmarks
Listening at different speeds
Organizing your library into folders
Easy access to audiobook extras
Frequently Asked Questions
Libro.fm App FAQs
Downloading the App
To download the Libro.fm listening app, visit the Apple App Store or Google Play Store. Search for "Libro.fm" and install the app. If a Kindle is your only listening option, follow the Kindle instructions (these instructions are long and complicated, as Amazon does what they can to prevent customers from being able to use their competitor's services on their devices).
---
Logging into the App
Log in to the Libro.fm app with the email and password that you used to create your Libro.fm account. Once logged in, your purchased audiobooks will automatically appear in your library. If you've forgotten your password, you can reset it.
---
Downloading and Playing Your Audiobook
To save memory on your device, all your purchased audiobooks are stored in the cloud by default. To download an audiobook to your device, simply tap on the cover and select "Download Audiobook" You'll then get a progress bar showing the status of the download. You can tell which audiobooks are stored in the cloud by the cloud icon ( ) on the cover. You can also use the filter bar at the top of your library to show all downloaded audiobooks.
Once downloaded, tap on the cover to open the play screen and then the play button to begin listening to your audiobook.
---
Deleting and Organizing Your Audiobooks
When done with an audiobook, you can delete the files from your device and move it to the "Finished" folder to keep your library organized. You will still be able to re-download your audiobook at any time as the audiobook icon will remain visible in your folders.
To delete an audiobook, simply tap on your audiobook. Under the right side of the "Play Audiobook" button you can select "Delete from Device."
To move an audiobook to a different folder, simply tap on the folder icon under the left side of the "Play Audiobook" button and move to the desired folder.
You can view all your folders by tapping the folder arrow at the top of your Library.
---
Buying More Audiobooks
It's not possible to purchase audiobooks through the app at this time. Please visit the Libro.fm website to buy your audiobooks. We recommend adding a website bookmark link to Libro.fm on the homescreen of your phone to easily access the website (how to set up a bookmark on iOS). Purchased audiobooks will automatically appear in your Library. However, you might need to refresh your app by swiping down in the library or by opening and closing the app.
---
Creating Bookmarks
Use bookmarks to quickly navigate back to memorable moments in your audiobook. From the play screen, simply tap bookmark icon at the bottom of your screen and enter a title for your bookmark. To view your bookmarks, tap the tracks icon in the bottom right corner and select the "Bookmarks" tab.
---
Refreshing Your Library
Your Library will automatically refresh when you open the app or navigate back to your library. However, if you'd like to force a refresh, simply swipe down in the Library.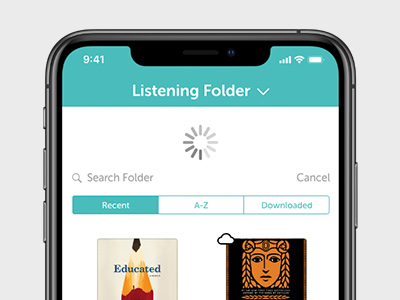 ---
Troubleshooting Downloads
If you have trouble downloading your audiobook, please try the following:
Give your device a hard reset by powering down and trying again.
Make sure you have a good WiFi connection.
Check to see if you have enough memory on your device to download.
Uninstall and reinstall the Libro.fm app.
---
Get Help
Check out our FAQs or contact us at hello@libro.fm and a real, audiobook loving human will get back to you.