Skip content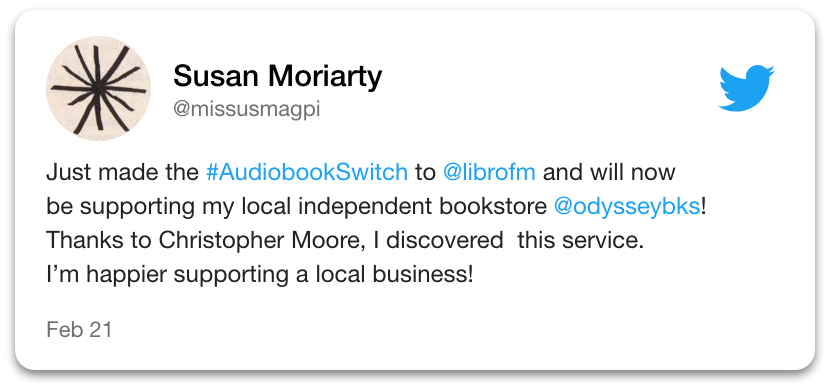 Compare Libro.fm to Audible
| | | |
| --- | --- | --- |
| | Libro.fm | Audible |
| Over 215,000 audiobooks to choose from | • | • |
| Includes one audiobook credit per month | • | • |
| 30% off additional audiobooks and gifted audiobooks | • | • |
| Free iOS and Android apps | • | • |
| Ability to redeem credits in-app on iOS | • | • |
| Every purchase supports independent bookstores | • | |
| Membership credits never expire | • | |
| Real people on support—no bots, ever | • | |
| Keep your credits when you hold or cancel | • | |
| DRM-free downloads (you own your audiobooks!) | • | |
| Recommendations and playlists from expert booksellers | • | |
| Helps create local jobs and keep more money in your community | • | |
| Small business and Social Purpose Corporation | • | |
Start your membership
Top 7 reasons to make the #AudiobookSwitch
Plenty of people are making the #AudiobookSwitch—choosing Libro.fm and their local, independent bookstore over Amazon's Audible. Why? We were hoping you'd ask:
1
Support local bookstores.
When you choose Libro.fm, you get to purchase audiobooks directly through your local bookstore of choice.
2
Enjoy expert bookseller recommendations.
Libro.fm offers real recommendations from real people, rather than algorithms which might be unreliable or harmful.
3
Own your audiobooks.
We offer 100% DRM-free downloads. With Libro.fm, you actually own each audiobook purchased and have the freedom to download and listen on any device you like. Read more about our "cage-free" audiobooks.
4
We're a Social Purpose Corporation.
As an SPC, Libro.fm is able to pursue both social and financial goals in the for-profit context, even if those social goals may at times conflict with financial interests. Learn more in our 2020 Annual Report.
5
Talk to real people.
Libro.fm is staffed by real people who love local bookstores, audiobooks, and customers. Reach us at hello@libro.fm, and a real, audiobook-loving human will get back to you.
6
Help your local economy thrive.
When you support your local bookstore, you're supporting the individuals who work there, plus approximately 28% of all independent bookstore revenue immediately recirculates in the local economy. A win-win.
Start your membership
We know breakups can be tough. Here's a letter from someone that did the hard work for you.

Membership details
Each month, you receive one audiobook credit in exchange for an automatic monthly charge of $14.99 USD plus tax to your credit card. Your membership provides ongoing support for local bookstores.
Audiobook credits from your membership can be used on your choice of over 215,000 audiobooks, regardless of list price. (Note: Certain audiobooks cannot be purchased with credits due to publisher restrictions.)
Audiobook credits never expire and can be used on gifts.
As a member, you receive 30% off additional à la carte audiobook purchases, including gifts.
You can place your membership on hold or cancel anytime and keep your audiobooks and unused credits.
Monthly membership is currently available only in the United States and Canada, but gift memberships are available worldwide.
---