Skip content
Perfect for fans of Me Before You and One Day—a striking, powerful, and moving love story following an ambitious lawyer who experiences an astonishing vision that could change her life forever.
---
Bookseller pick
"Rebecca Serle's In Five Years has so many of the things I want in a terrific novel: a twisty plot that leaves me guessing; radically unexpected developments; settings that I can see, smell, and taste; and probably the thing that Serle does best — an introduction to characters I'll grow to care about and shed tears with. That last one? The tear thing? In Five Years had me weeping for the last part of a coast-to-coast flight, prompting the flight attendant to hand me a drink because, she said, it looked like I needed one. I loved this book and can't wait to offer it to readers."

Nick Petrulakis, Brookline Booksmith
Bookseller pick
"Where do you see yourself in five years? - Imagine you have your whole life planned out to the T. Now imagine that plan is ripped up and thrown in the bin. This book will squeeze your heart. This is a story about love and the power that is holds."

Alexandra, Birdy's Bookstore
Bookseller pick
"Sometimes a book comes along that is exactly what you need at the moment. That's what "In Five Years" was for me last week. Partly because it's a love story with a bit of magic. Partly because I adored the friendship between the two very different main characters: pragmatic Dannie and whimsical Dannie. This book gave me all the feels, a few laughs and maybe a few tears. It is Me Before You by Jojo Moyes meets Something Borrowed by Emily Giffin. Best paired with whitefish salad on a bagel. Seasoned Broadway veteran Megan Hilty (who also played Ivy Lynn in Smash on NBC) narrates the audiobook, and I loved her performance."

Tara, Aesop's Fable
---
Description
A New York Times bestseller
A Good Morning America, FabFitFun, and Marie Claire Book Club Pick

Where do you see yourself in five years?

Dannie Kohan lives her life by the numbers.

She is nothing like her lifelong best friend—the wild, whimsical, believes-in-fate Bella. Her meticulous planning seems to have paid off after she nails the most important job interview of her career and accepts her boyfriend's marriage proposal in one fell swoop, falling asleep completely content.

But when she awakens, she's suddenly in a different apartment, with a different ring on her finger, and beside a very different man. Dannie spends one hour exactly five years in the future before she wakes again in her own home on the brink of midnight—but it is one hour she cannot shake. In Five Years is an unforgettable love story, but it is not the one you're expecting.
---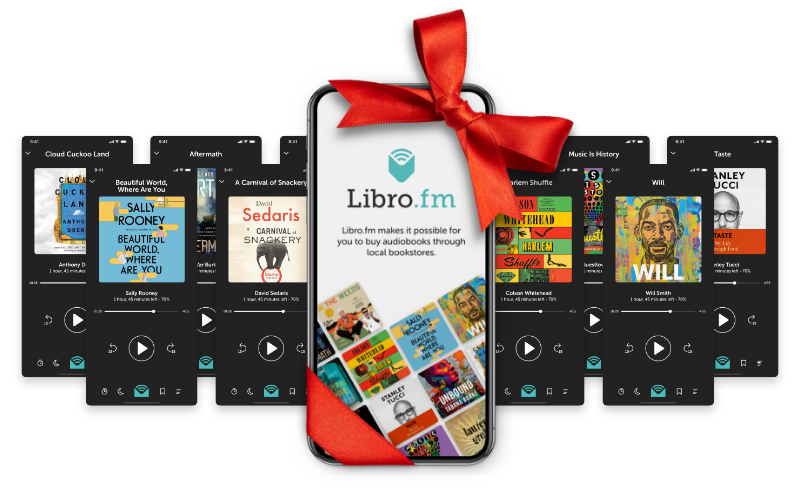 Shop early and gift big!
Gift an audiobook membership to anyone in the world and support local bookstores at the same time.
Start gifting
Testimonials
---
"In Five Years is more than just a love story; it's a half dozen of them, none quite what you expect. Heartwarming, heartbreaking, and hard to put down, it's a novel about romance, friendship, the magic of good bagels, and what happens after you get everything you always wanted."

Laurie Frankel, author of New York Times bestseller This Is How It Always Is
"Heartbreaking, redemptive, and authentic in all the ways that make a book impossible to put down, I fell in love with this story. In five years, I will still be thinking about this beautiful novel."

Jamie Ford, New York Times bestselling author of Hotel on the Corner of Bitter and Sweet
"What would you do if you glimpsed your life five years from now—and found that it was different, in every way, from what you hoped for and expected? Rebecca Serle pairs this inspired premise with deft, propulsive prose and characters who feel as real as friends. In Five Years is as clever as it is moving, the rare read-in-one-sitting novel you won't forget."

Chloe Benjamin , New York Times bestselling author of The Immortalists
About the author
---
Rebecca Serle is an author and television writer who lives in New York and Los Angeles. Serle codeveloped the hit TV adaptation of her YA series Famous in Love, and is also the author of The Dinner List, and YA novels The Edge of Falling and When You Were Mine. She received her MFA from the New School in NYC. Find out more at RebeccaSerle.com.
Reviews
"Serle takes a fairly generic rom-com setup and turns it into something much deeper in this captivating exploration of friendship, loss, and love."

Booklist
"A heartwarming portrait of a broken heart finding a little healing magic."

Kirkus Reviews
"Serle's whimsical tale is book club catnip."

Publishers Weekly
"I adored In Five Years, it's so poignant and tender. It broke my heart, such an unusual idea executed brilliantly, I didn't see that twist coming! I'm a sucker for great love stories, and this one is just lovely. A keeper on my shelf!"

Josie Silver, author of #1 New York Times bestseller One Day in December